March 2, 2006
This trip to Greystone Castle in Mingus, Texas was to be a day of hunting for a variety of birds as well as a chance to do some joint marketing and male bonding. It was setup and postponed twice before we found a date when everyone was available. There were only three of us, but schedules can be very complicated. Our host was Mark Elste and both he and I work for GreatBanc Trust Company. Our guest was John Kober of Morgan Lewis & Bockius in Dallas.
Unfortunately, on the day before the trip, Mark was challenged by a family medical problem and had to bow out. At his insistence, I became the host and made a quick call to Jerry Johnson of Brookshire Brothers in Lufkin, Texas who was able to join us as the third member. Jerry is a life-long hunter and has hosted me on several trips.
John and I were already in Dallas. We drove to the Mineral Wells Municipal Airport where a small private airplane dropped Jerry off. From there we drove to Mingus and the Greystone Castle.
This Wednesday was the hottest March 1 on record for many parts of West Texas. The car thermometer read 99° as we departed the Mineral Wells airport.
As you exit Interstate 20 at Mingus, the castle sits high on a hill. A gravel road leads to the entrance.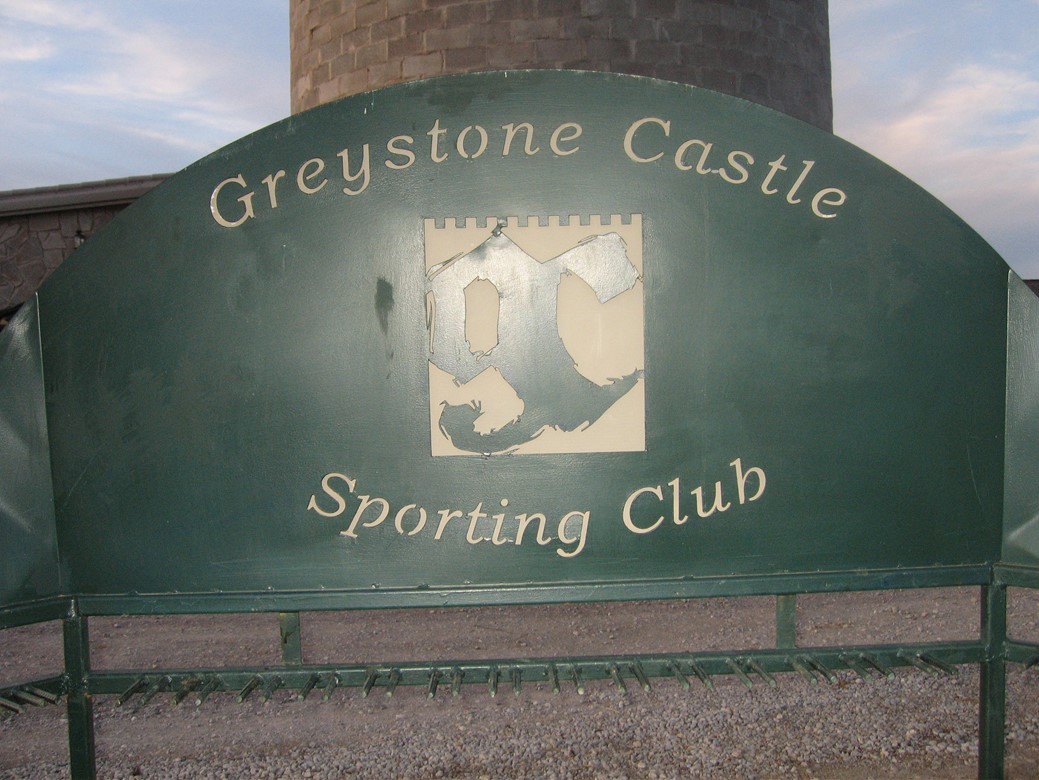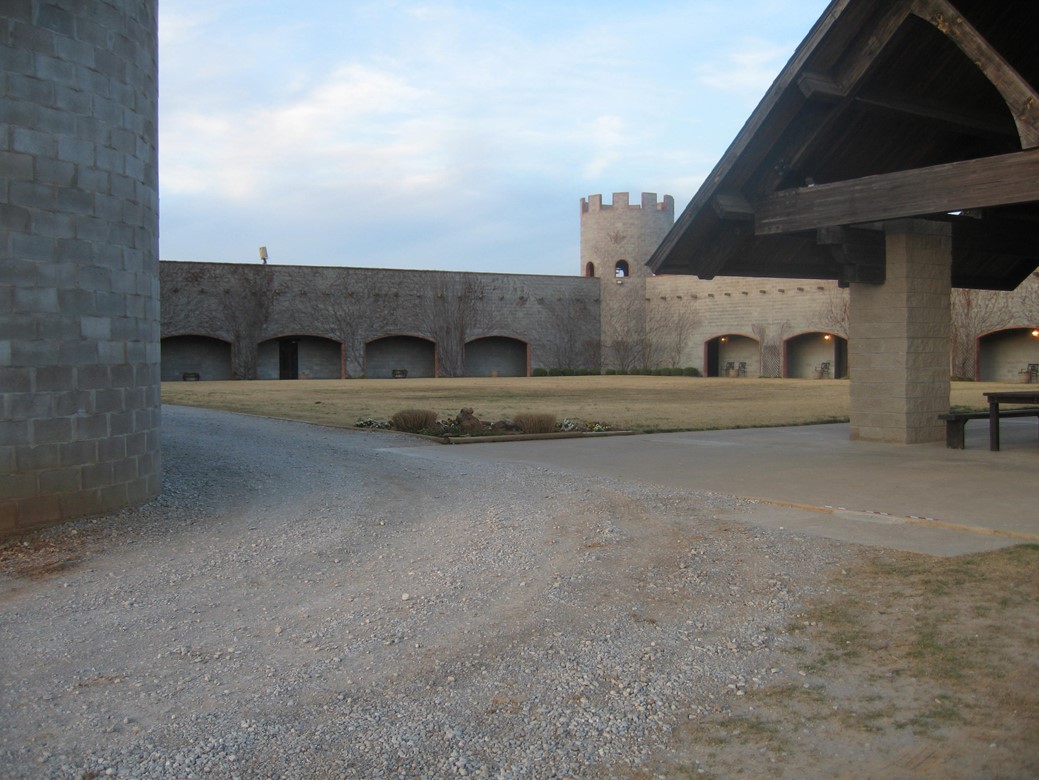 Kim Cannon who, with her husband Doug, lives at Greystone year-round greeted us. We were shown to Lodge #1. This lodge has an immense common area and five separate bedrooms off the sides. The walls are decorated with trophy game and the furnishings are most comfortable.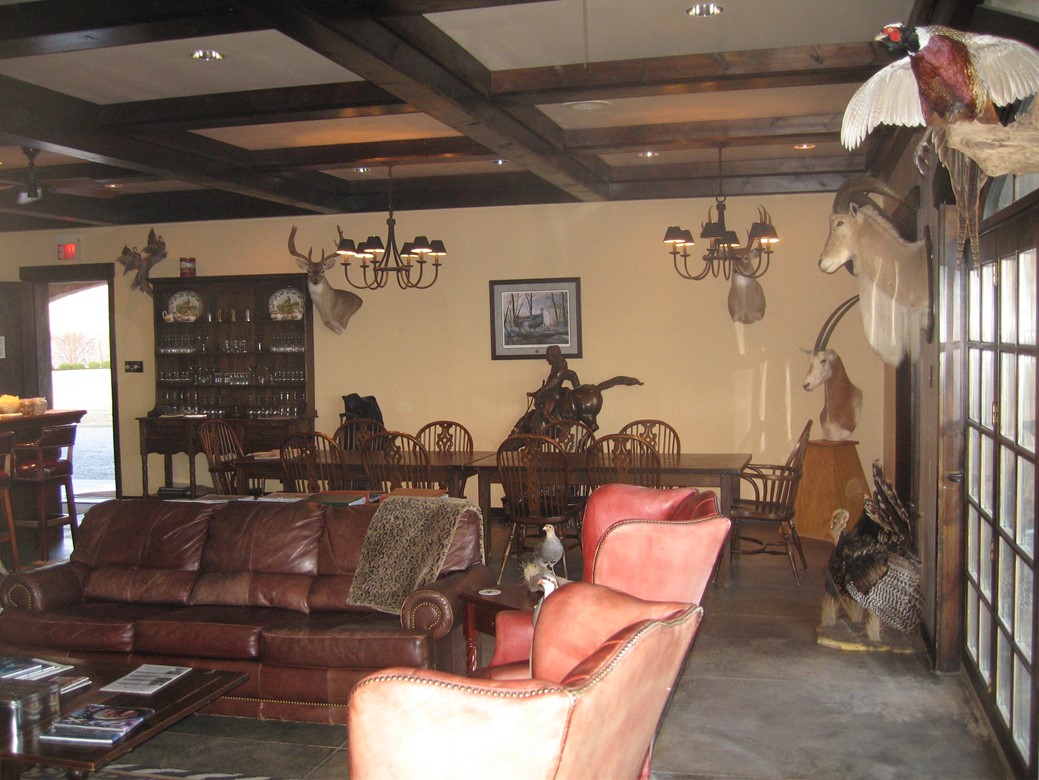 There is a long bar that separates the kitchen area from the rest of the room.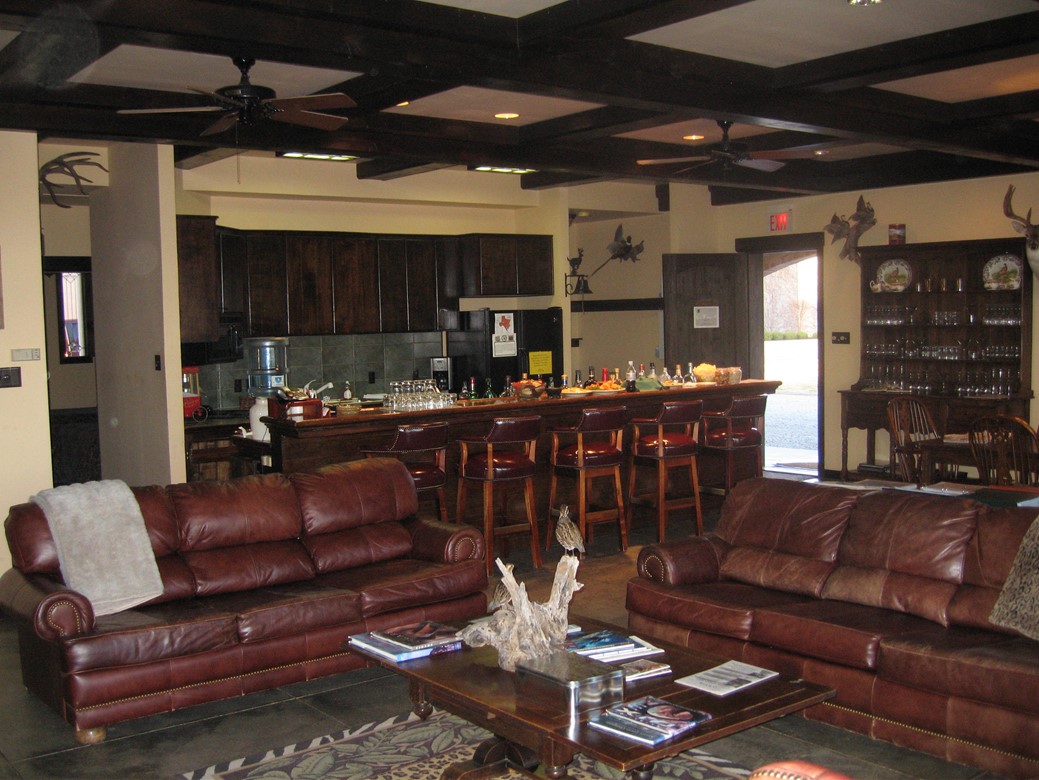 When the shooting is over, the bar is fully stocked with all sorts of drinks and mixers. Before dinner, the staff brings in some appetizers to go with the cocktails.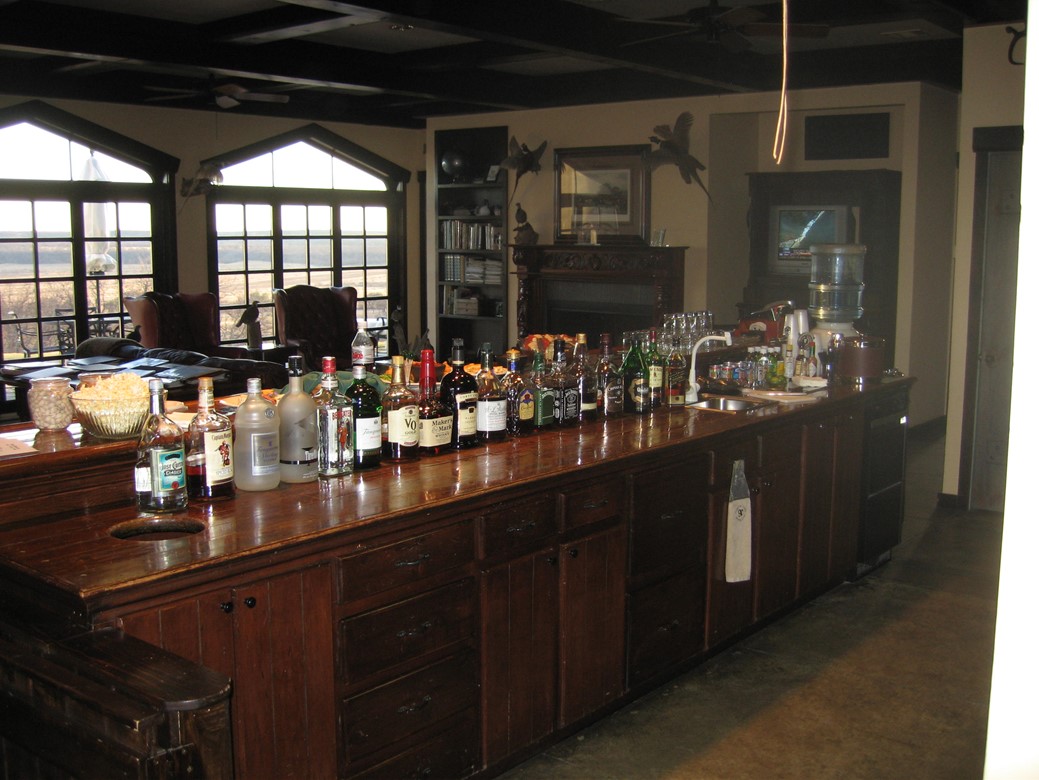 Accommodations include a working fireplace, satellite television and a wireless high-speed connection to the Internet. There was no suffering at this campsite.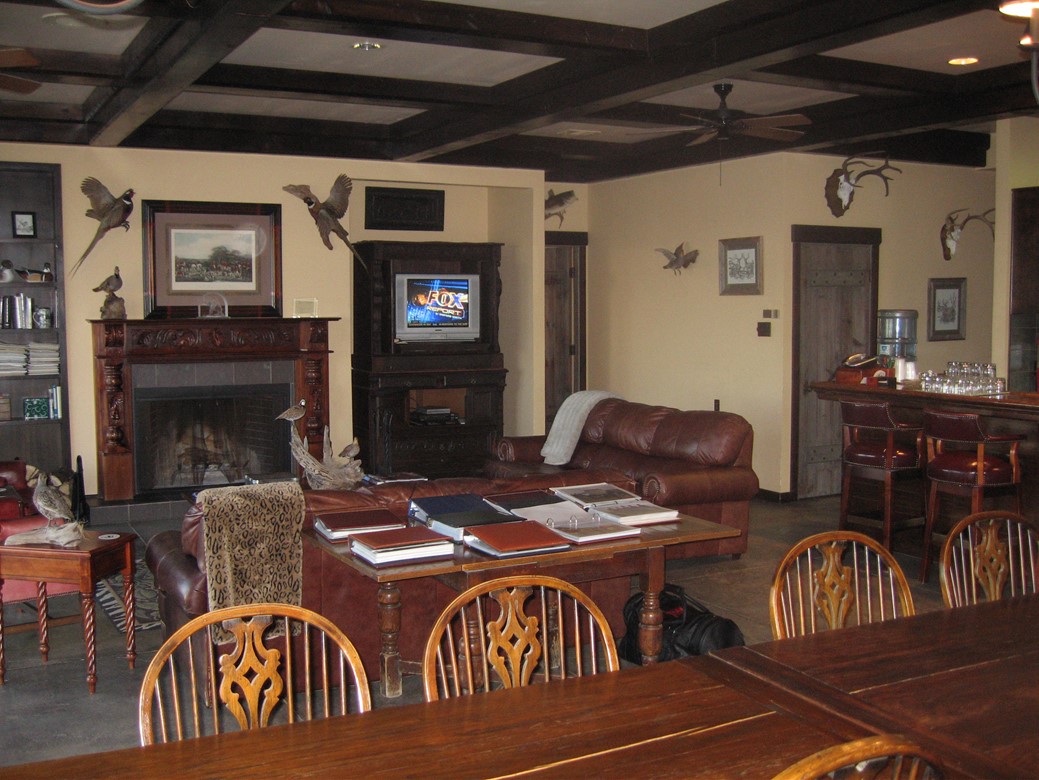 The view out the back was the rolling hills of West Texas. In the meadow below there were almost always deer or antelope grazing.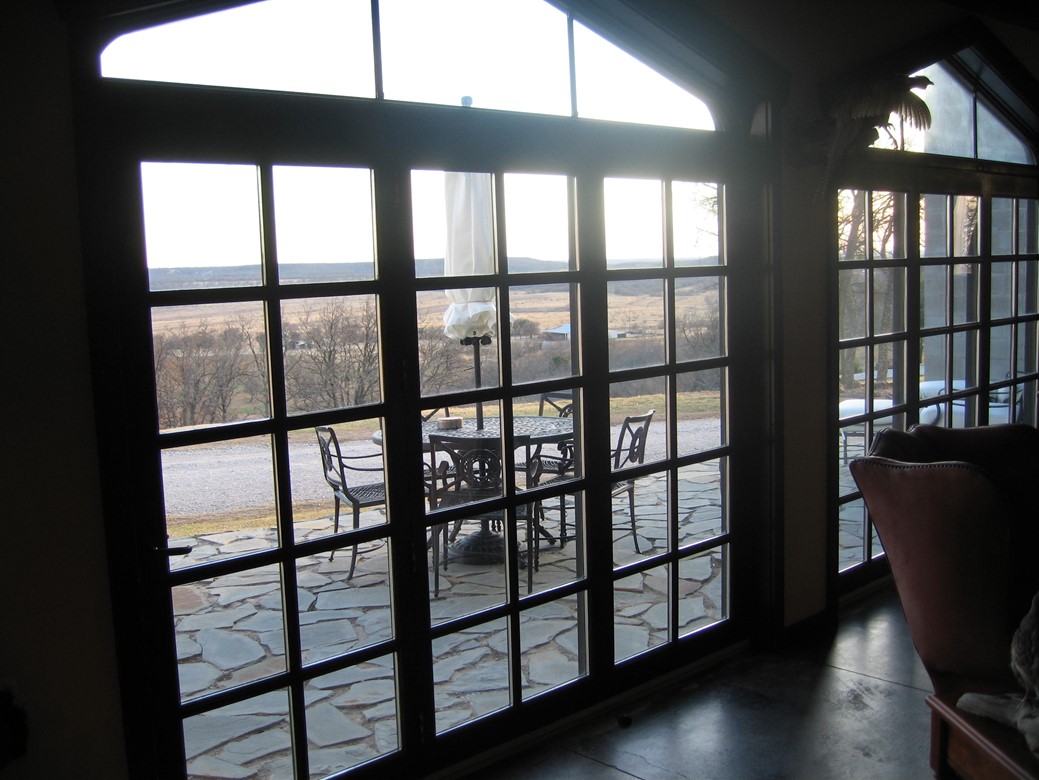 We enjoyed a fabulous dinner Wednesday night. Dinner was followed by cigars and brandy before heading to our separate rooms.
Thursday morning there was coffee waiting at the flip of a switch. About 7:00 AM the morning newspaper was delivered and at 8:00 we sat down to a full breakfast.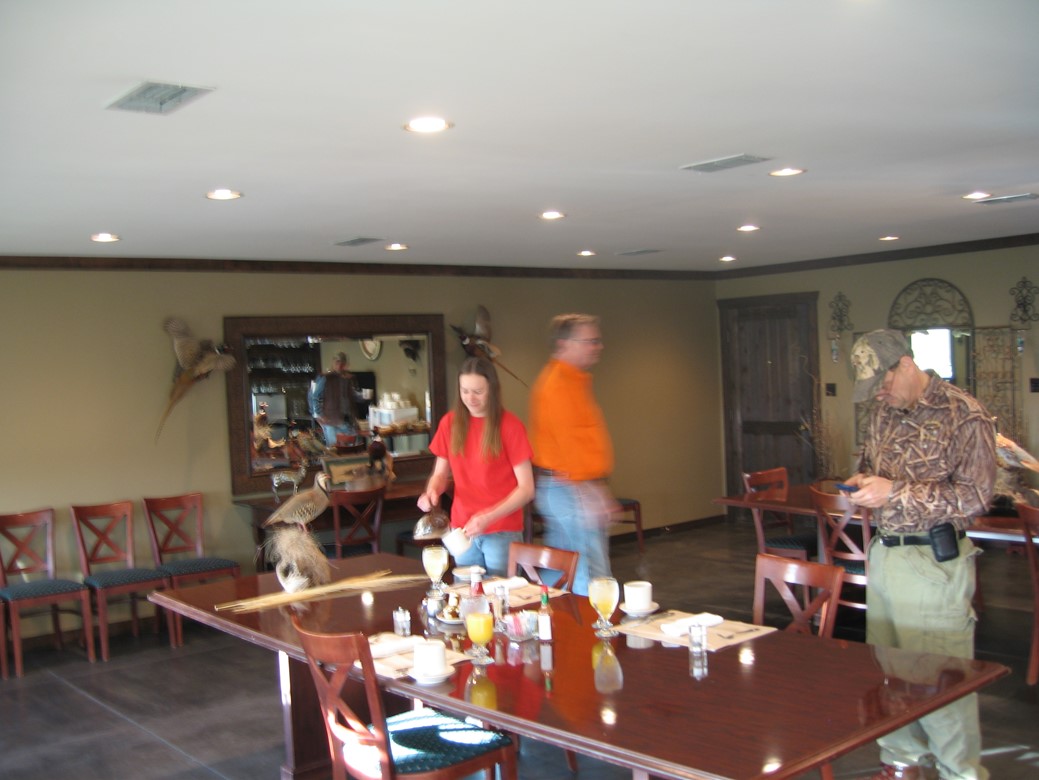 At 8:30 AM we rented some over-under shotguns and received a safety briefing.
This day was considerably more pleasant temperature-wise than Wednesday. It was still warm for those of us from Chicago, but a welcome break from freezing temperatures.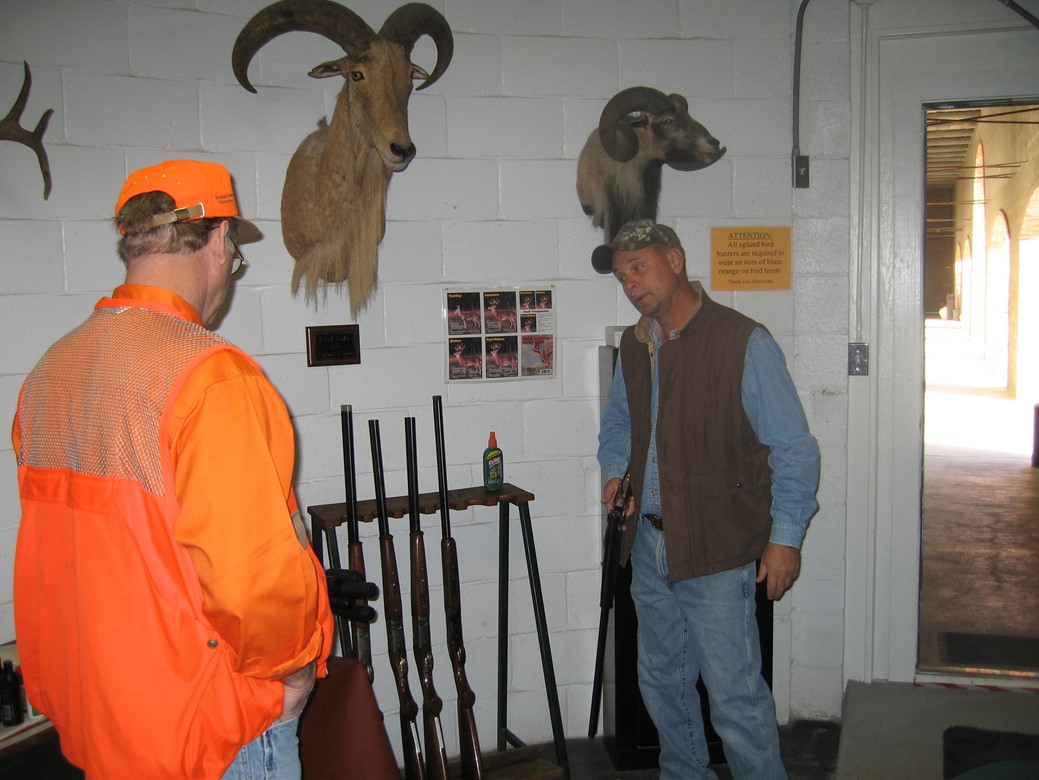 We spent the next ½ hour shooting clays and trying to get comfortable with the guns and our aim.
At 9:00 we met our first guide, Tim and climbed into his truck.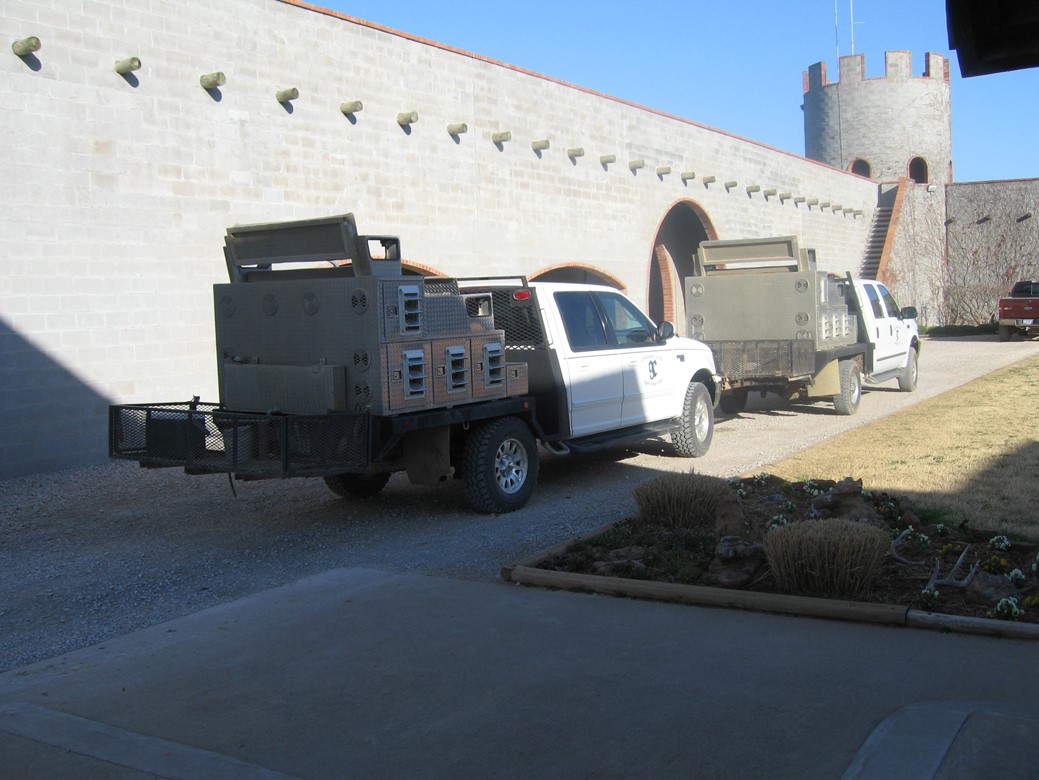 The cages on the back of the truck are for Tim's dogs. The guides bring 5 dogs with them for each hunt. The dogs get spelled off periodically so they don't get overheated.
It was a short ride to the fields and we were quite successful. Here are John and Jerry reloading after successful shots.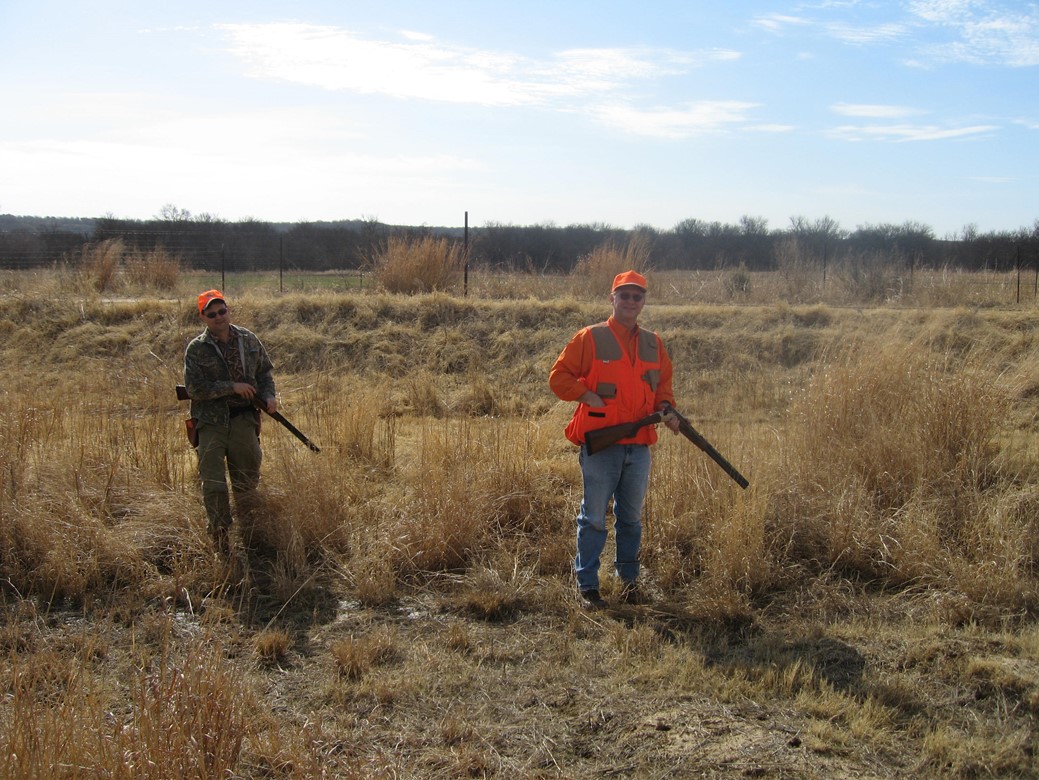 This was my first bird hunt using dogs and I was most impressed with the training of these animals. They are under the careful command of the guides. Two of the dogs run out in front and sniff out the birds. As soon as they locate one, they go into full point.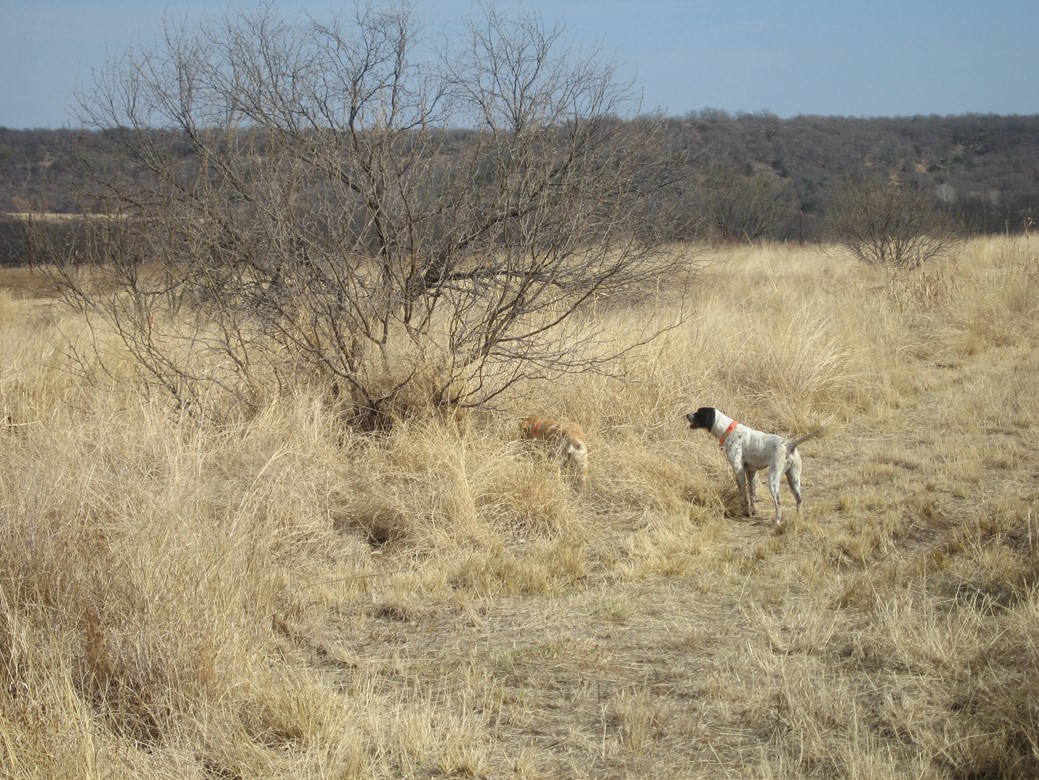 The guide then positions the hunters in strategic locations to have a shot at the bird when it flies. He then commands the third dog to flush the bird. This dog will rush right into the thicket where the bird has been spotted and force it to fly. Twice the bird didn't fly and the flushing dog came out with the live bird in its mouth. He didn't need no stinking hunter.
After lunch, we had a chance to relax around the pool and enjoy another cigar.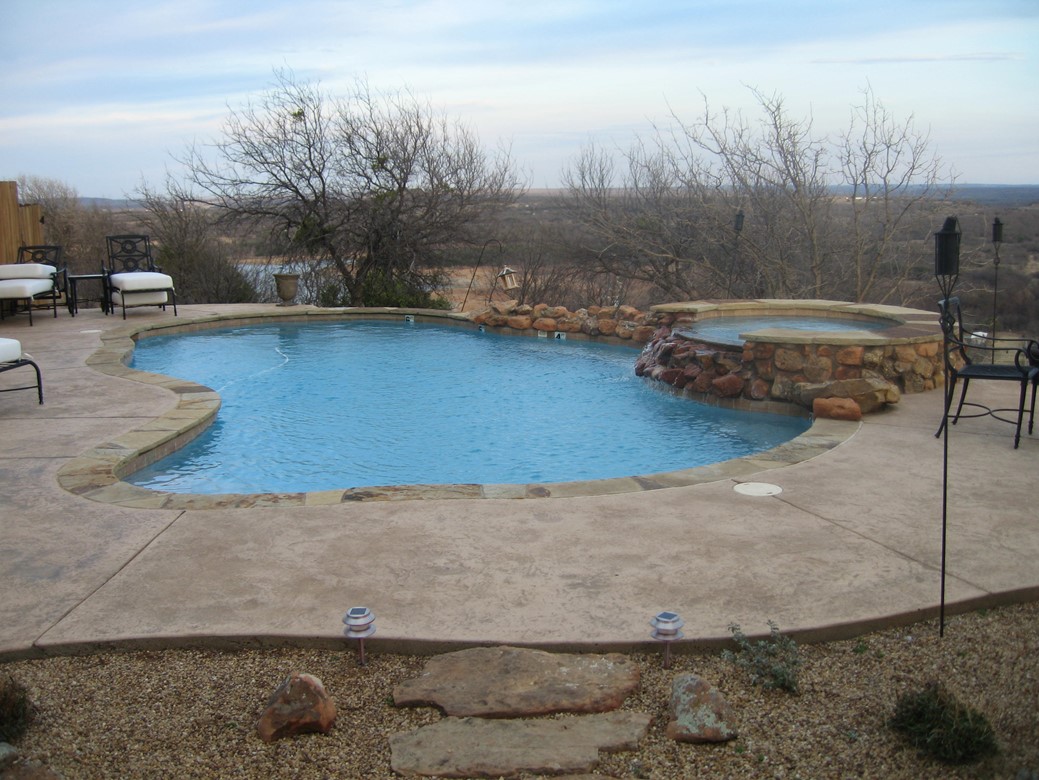 The afternoon hunt was about the same as the morning but in a different location. We shot a similar number of birds and returned for cocktails and dinner.
Jerry was about to become a grandfather for the third time and was needed in Lake Charles, Louisiana. He cleaned up and caught a ride back to the Mineral Wells airport and flew back home.
John and I stayed and enjoyed another round of cocktails, appetizers and a steak dinner.
All of us had a great time and vowed to return soon.